Skip Navigation
Website Accessibility
Quilters Headquarters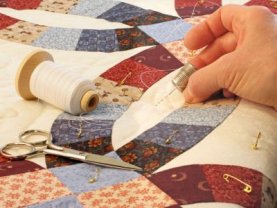 has been helping quilters achieve their creative goals since 2010, providing them with a wide variety of 100% cotton fabrics as well as embroidery supplies, and sewing machine sales and service.


At Quilters Headquarters, we recognize the importance of having the right tools and supplies to successfully complete quilting projects. That's why we offer our customers a large selection of the industry's finest products, along with exceptional service, and top notch training.

When you're in the area, we hope you'll drop by our store, at 3705 S Grange Ave. where we provide a friendly gathering place for quilters of all ages, styles, and skill levels. Here, you'll find expert advice and genuine encouragement to help you succeed at quilting!