Quilters Headquarters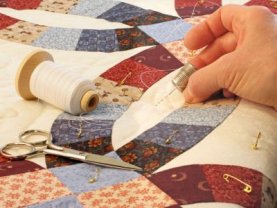 has been helping quilters achieve their creative goals since 2010, providing them with a wide variety of 100% cotton fabrics as well as embroidery supplies, and sewing machine sales and service.

With a passion for quilting, and the culture that surrounds it, Lori Kern started the Canton Quilt Corner in Canton, South Dakota, quickly followed by a second location, Quilters Headquarters, in Sioux Falls, South Dakota.

Lori has been quilting for more than 20 years, and enjoy sharing her knowledge and talents with her customers in an effort to promote and preserve the art of quilting for generations to come.


At Quilters Headquarters, we recognize the importance of having the right tools and supplies to successfully complete quilting projects. That's why we offer our customers a large selection of the industry's finest products, along with exceptional service, and top notch training.

We have devoted quilting experts on hand to assist you with everything from fabric selection to finding the right machine that suits your creative needs. Our innovative PFAFF and Juki machines are backed by our personal satisfaction guarantee...so if it doesn't suit your requirements, bring it right back and we'll find one that does.

When you're in the area, we hope you'll drop by our store, at 3705 S Grange Ave. where we provide a friendly gathering place for quilters of all ages, styles, and skill levels. Here, you'll find expert advice and genuine encouragement to help you succeed at quilting!